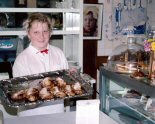 Welcome to the Utah Post High School
Outcomes Survey Website
The Utah State Office of Education is committed to identifying and responding to the needs of students with disabilities. To that end, it is necessary to document the post high school outcomes of students with disabilities, and to use that information to make programming and planning decisions to improve education and transition services for students, and ultimately improve post high school outcomes.
The Office of Special Education Programs (OSEP) requires states to develop a State Performance Plan (SPP), describing a 6 year plan to address three monitoring priorities and twenty indicators for students with disabilities, with the Annual Progress Report (APR). The APR is submitted annually to document progress toward addressing those priorities and indicators.
Indicator 14 of the SPP requires that states report the percentage of students who had IEPs when they left school and who have been enrolled in postsecondary education or training or employed within a year of leaving high school. Student "leavers" are those who have either graduated with a diploma, reached maximum age, dropped out during the school year, or did not return to school for the current year.
The Utah State Office of Education - Special Education - (USOE SpEd) has developed a telephone survey that will be administered to all students over 14 years of age, who were served under IEPs and exited during the school year or who failed to return to school in the fall. Data will be collected June through September the following year and reported in the APR due to OSEP in February. Disaggregated LEA data will be posted on the USOE SpEd website in the Spring. Data from LEAs with small numbers of "leavers" will be aggregated to avoid posting personally identifiable information.